I knew of Dr. Terri McFadden long before we met in person. I've yet to meet a single person in the medical community in Georgia who did not have some familiarity of Dr. McFadden. I once mistakenly referred to Terri as the "grandmother" to all Georgia's children when I meant to say "godmother." She's never let me live that down.
Working closely side by side with Dr. McFadden, since 2012, has been such a blessing professionally and personally. We are alike in many ways. We both are married and have two children. We are both empty nesters and passionate about our families and brag often about our children – we can't help ourselves. We share a passion and commitment to reach as many families as possible with our program and won't stop until we've reached our goal. After six years we now complete each other's sentences and know one another's opinions before we even have to ask. The highest compliment I've ever received was when someone said that Dr. McFadden said we were soul mates.
Dr. McFadden was the first pediatrician in the state of Georgia to begin implementing the Reach Out and Read program at Children's Healthcare of Atlanta Hughes Spalding. Dr. McFadden serves in the role of Reach Out and Read Georgia Medical Director. She sings the praises of our organization with such conviction many have asked if she is an employee or if she receives a stipend for her time. She is not an employee, nor does she receive a stipend. She has a belief that her voice can make a difference in the life of the families entrusted in her care and to her that's payment enough. She sees the reward by hearing stories of success with her patients. Some have gone on to serve in the military, earn advanced degrees, become police officers and teachers. You see what you do matters and over time has a ripple effect that can touch generations to come.
The intervention is simple – a book paired with advice from a trusted physician – over time results in a six-month developmental edge when children arrive Kindergarten.
What started as a single pediatrician with a dream, to educate parents in the importance of engaging with their child early and often through language and routines in 1996, is now reaching over 100,000 children in 67 counties in Georgia with a small army of trained pediatric teams implementing our intervention. The intervention is simple – a book paired with advice from a trusted physician – over time results in a six-month developmental edge when children arrive Kindergarten.
Since 2002 when we began tracking the number of books that were distributed, Dr. McFadden, residents, and other Children's Healthcare of Atlanta at Hughes Spalding have prescribed reading and discussed the importance of routines, by distributing 287,480 new books. That's 287,480 opportunities for children to explore the world around them through the beautiful, special experience of being read to by a parent, caregiver, or older sibling. And, that's just 287,480 opportunities at just one Reach Out and Read location! In total 1,833,746 books have been distributed by Reach Out and Read Georgia trained pediatricians.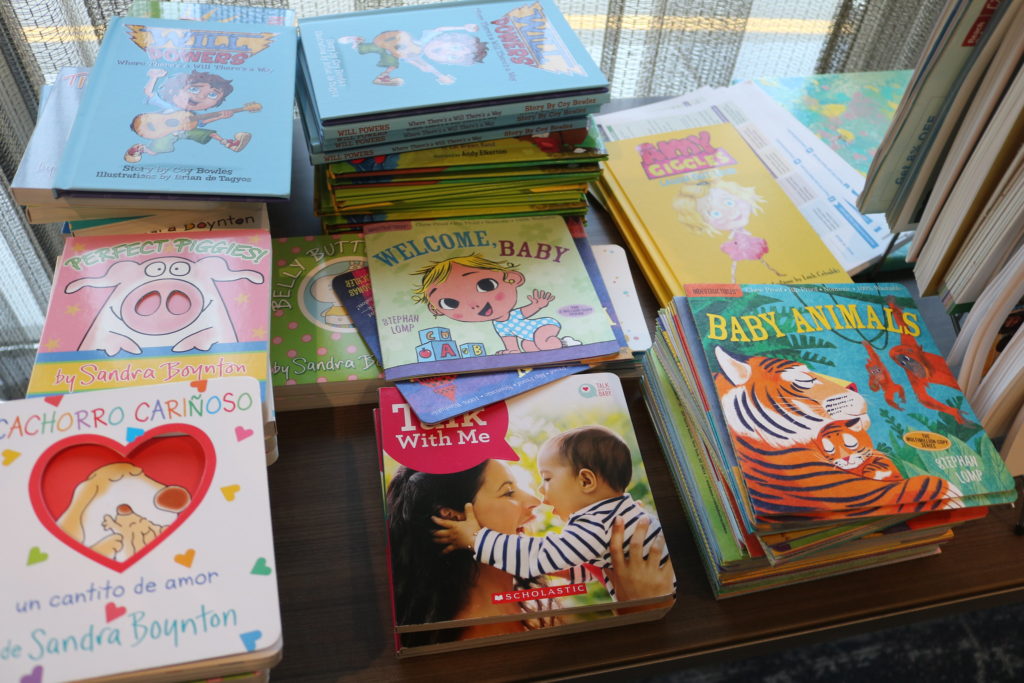 In 2012 we launched our Reach Out and Read Georgia state office with funding by the United Way of Greater Atlanta by way of The Joseph B. Whitehead Foundation and The Arthur M. Blank Family Foundation. Since then we've grown from serving 56,000 children to over 100,000 in 2019 and we're just getting started. You see the dream that Dr. McFadden and I share is that EVERY child in Georgia has the benefit of being served by a trained Reach Out and Read pediatrician. We believe it is a fundamental right and an essential component of pediatric care to promote the very important message that a child's brain develops faster than any other period in the first five years of life. The messages shared in the exam room are the most important ones for a parent to hear. Pediatricians are partners with parents – they are trusted advisors. Messages of the importance of routines, nurturing environments, soothing strategies to calm a baby like rhyming, cooing, singing and talking with a baby. The messages are wrapped and delivered with love by a trusted pediatrician. The reward is watching these families thrive and be successful academically and socially. Watching these babies grow up, transition to school and eventually graduate is the ultimate reward. When children receive a diploma, get an award, be on the Dean's list, go to college or trade school, get a job they see the world differently than perhaps the generation before them. They begin to believe that anything is possible. And it is. You see books open doors to worlds that many young children can't explore in person, but they can experience in their mind. Unlocking that world unleashes endless possibilities and that's why we do what we do.
Last year Dr. McFadden became the President of the American Academy of Pediatrics and invited to join the National Reach Out and Read Board of Directors. She has served as keynote presenter at conferences and attended countless meetings with foundations and corporations across the state. I recently said everyone has 24 hours in a day – except Terri, she has 25.
Terri has our endless appreciation, respect, and admiration and we are forever grateful for her service.