As a parent and pediatrician, Dr. Shriver answers COVID-19 related questions and provides personal insight into the impact of Reach Out and Read on families, communities, and society-at-large.
---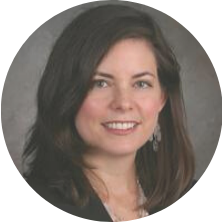 Dr. Amy Shriver, General Pediatrician at Blank Children's Pediatric Clinic, Medical Director of Reach Out and Read Iowa, Assistant Professor of Specialty Medicine at Des Moines University
---
During COVID-19, how does Reach Out and Read affect not only your practice but the families and communities you work with?

Reach Out and Read is a powerful platform for discussing parent-child interactions and the importance of serve-and-return for building young brains. My role as the Medical Director of Reach Out and Read Iowa allows me to speak on how pediatricians can support families in the primary care setting and helps me form important community partnerships that support families, such as the Des Moines Public Library's 5 Simple Steps (Read, Talk, Sing, Play, Write). Discussing shared reading with families is the best part of my job. Books are a powerful part of our shared humanity; books and reading bond us.

Why is promoting early literacy important amid a pandemic?

Especially in a child's earliest years, physical, mental, and educational health are connected and interdependent. Brains require appropriate stimulation to grow properly, and that stimulation comes in the form of nurturing caregiving in the home. Just as macro- and micro-nutrients are critical for the health of the body, shared reading and other positive caregiver-child interactions are nutrition for the brain.

As a parent of a 9 and 12-year-old, how have you implemented and benefited from Reach Out and Read during these challenging times?

Some of my favorite memories are of putting my kids to bed because they can't wait to pick out a book, snuggle up and read with us. Right now, we are reading the fourth Harry Potter book and we have so much more reading left in that series! Their dad likes to read Calvin and Hobbes to them, which allows him a chance to re-read his favorites from his childhood.
How does ROR strengthen our society and combat the effects of income inequality?

Literacy is a key driver to educational and economic success. The first few years of a child's life are a critical window of brain development, a rapid period of growth that is fundamental for positive cognitive and social health. But children born into poverty are at higher risk for starting school without the skills they need to succeed. When children are underprepared, they are at higher risk for learning problems. Those who aren't "reading to learn" have lower graduation rates and are more likely to have lower wages, become involved with juvenile justice, and continue a cycle of poverty.

Reach Out and Read is a powerful intervention on the importance of shared reading, providing families with age and developmentally appropriate books and training clinicians to model it in the exam room. Improving educational outcomes not only benefits the families we serve, but also improves our community's economic well-being with a more educated workforce.

What is your favorite book?

Does anyone have just one? It really depends on what kind of book! I loved the experience of reading I am Malala with my tweenager. I continue to read and reference Nadine Burke-Harris' The Deepest Well. I love the illustrations in Llama Llama Red Pajama. The ending of The Grapes of Wrath brings me to tears just talking about it. The good news is, we don't need to just have one favorite!