During these times, we all have had to adapt to the new normal– including Jaden Mandio, a Boy Scout from Troop 22 in Bloomfield, NJ! At eleven years old, Jaden participated in our #ReadTogether project as an innovative way to earn his Reading Merit Badge by supporting awareness of Reach Out and Read's mission to encourage families to make shared reading a part of their routine. Jaden's virtual readings of his favorite books were also enjoyed and shared by teachers from his school, Saint Thomas the Apostle School in Bloomfield, NJ, with their younger classes during reading time!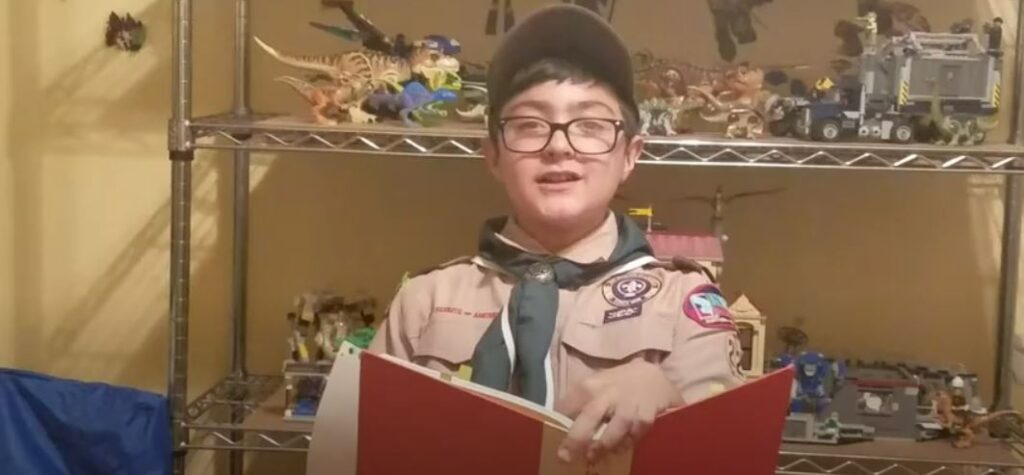 "They both help to bring people together, in emotional and physical ways. Reading allows you to expand your mind and wonder. BSA Scouting allows me to do the same things, while also teaching me how to actually do the tasks – both let young children learn important life skills. Reading helps me to live by the 3rd leg of the Scout Oath: To Keep Myself Physically Strong, Mentally Awake, And Morally Straight," said Jaden about the connection between reading and Boy Scouts!
Jaden's favorite part of reading is that he gets to tap into his imaginative and creative side. Since Jaden was little, his parents have encouraged his love for reading by choosing books that aligned with his interests, available to him. Now, Jaden is helping make stories easily accessible to young children across the country in hopes they enjoy reading and learning as much as he does!
Jaden successfully received his Reading Merit Badge and his counselor was thoroughly impressed that he was able to reach his requirements while thinking outside of the box by supporting Reach out and Read. In addition to reading his favorite series "Diary of a Wimpy Kid, guitar, chess, writing songs, basketball and drawing are some of his beloved pastimes!
He plans on using Reach Out and Read for some of his requirements for his Citizenship in Community Merit badge, so expect more to come from Jaden and Reach Out and Read's collaborative friendship!