I love the idea of passing on traditions to my children. However, as a pediatric resident in a vigorous program, with two rambunctious kids under four and a dog in the midst of a mid-life crisis, who's also trying to be a present wife, daughter, sister, friend, and colleague, I'll be the first to admit that I'm absolutely rubbish at planning in advance (just ask my husband) …let alone, taking the time to set foundations for family traditions. At first glance, our family rituals— call-schedule and pantry stock dependent— are pretty much limited to Sunday morning sprinkle pancakes. Yet, upon reflection, I have carved out a nightly ritual, far more than a routine, that has enabled me to instill my lifetime love for reading and books in my own children while also strengthening our own family bonds.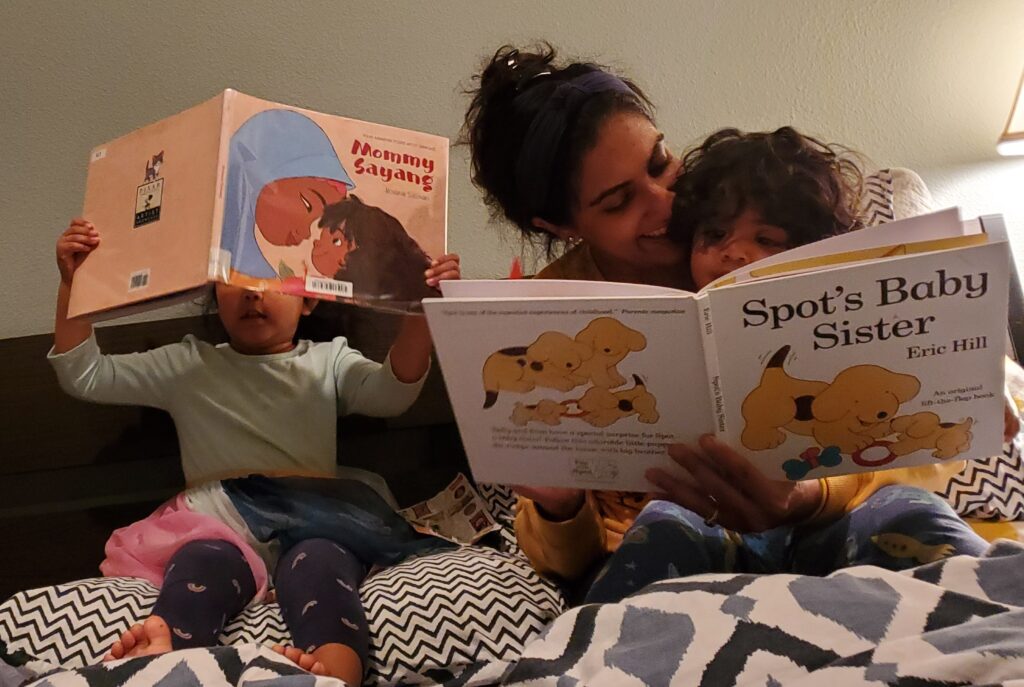 I have two story-time dates every night—the first is with my 18-month-old son and the second is with my 3.5-year-old daughter. After the madness of dinner, bath, the inevitable chase of delirious naked children down and back up the stairs, battling into pajamas, and negotiating brushing teeth, we ignore (my) personal space, snuggle close and start reading a book (or three, or four or 10). My husband and I have tried splitting up responsibilities (I take one child, he takes another) but, truth be told, I need that time with both of them. My daughter too—if I'm taking too long with her brother or come home late, she will read with my husband but won't tuck in for the night until she and I read our minimum three books together. I may feign annoyance or concern for her postponed bedtime, but after a long day on the floor, I look forward to and need mummy-daughter time as much as she does. It's our time to unwind, reconnect with ourselves and one another, exercise critical thinking, and explore worlds different than our own.
Most recently, due to my own personal journey of self-discovery and the Black Lives Matter movement, I use books, as Emily Style and Rudine Bishop discussed, as "mirrors and windows." Books have provided me an opportunity to show my children a world in which they're represented as well as address my own need to see myself on the page. I have gone to great lengths to find picture books with diverse characters*, so it's no lie that my heart skips a beat each time my South-Asian son points to a picture and says "Nani" or my daughter casually remarks, "Mummy, that girl looks like me." I was never able to say that to my mother growing up! We are constantly picking up new reads from the library. I just can't get enough! Books are in every room of our house (as well as at my parents') and ready for reading whether it be in the early hours of the morning before the clock says we can get up, to help calm us down during a tantrum (myself included), when needing an extra cuddle, while waiting for the pasta to boil, or settling down for the night.
Our love for reading and children's literature led me to learn more about Reach Out and Read. After a brief introduction to the program last year, I did my best to incorporate it into well-child visits, but truth be told, it often became a glorified sticker at the end of a patient's visit. However, as reading has become more ingrained in my family's life, my passion for early childhood literacy has been reignited. I want every family to experience what my family and I have been so lucky to experience on a daily basis. In hopes of championing literacy in my daily clinical practice, I reacquainted myself with the evidence behind Reach Out and Read and, thankfully, stumbled upon the ROR podcasts. As an avid reader that always touted being a history teacher or children's librarian as back-up options in case medicine didn't work out, the ROR podcasts touched my heart. Whether it be discussions about reading amidst the pandemic crisis, promoting diversity in children's literature, advocating for the underserved, or even that I can recite the same books as Chelsea Clinton, each episode was emotive and thought-provoking. Riding on the momentum gained after listening to these discussions, I am determined to become more involved with Reach Out and Read and aspire to learn as much as possible about the day-to-day operations as well as prompting resident engagement and incorporation into daily practice.
With encouragement from local champions and Jocelyn McConnell, I have completed the online CME training and delved into the evidence behind Reach Out and Read. I found the online training a great introduction to the research. Information is presented in digestible chunks with age-specific video vignettes sprinkled in. The videos were informative, both as a physician and as a parent in reminding how to practice shared and dialogic reading. With the mentorship of local champions, I am undertaking a needs assessment of our residency training in early childhood literacy and Reach Out and Read as well as brainstorming how we can promote a literacy-rich clinic environment in this Covid-era.
Reading with my children has strengthened our bond as well as, unknowingly, set a foundation for a family ritual that I hope to continue for generations to come. Reach Out and Reach enables a tradition to be established between a physician and families, and hopefully, even more so, between a child and care giver. Far more than just promoting children's literacy, Reach Out and Read is prompting a way to strengthen care giver-child relationships, develop daily traditions, impart parenting skills, and develop one's own self.
Some of our family favorites:
The Gruffalo by Julia Donaldson (to be fair, any of her books)
But No Elephants by Jerry Smath
The Many Colors of Harpreet Singh by Supriya Kelkar 
Love You Forever by Robert Munsch

BIO:
Dr. Nikki Gambhir (MBChB MRCPCH), a native Houstonian, completed her undergraduate education at the University of St. Andrews in St. Andrews, Scotland, and medical school at the University of Manchester in Manchester, England. After years abroad in the UK and Australia, she returned to Houston for a pediatric residency at Baylor College of Medicine and Texas Children's Hospital. In her spare time, she enjoys reading, traveling, frequenting Houston's parks and museums with her family, and is even having a go at writing her first children's picture book.