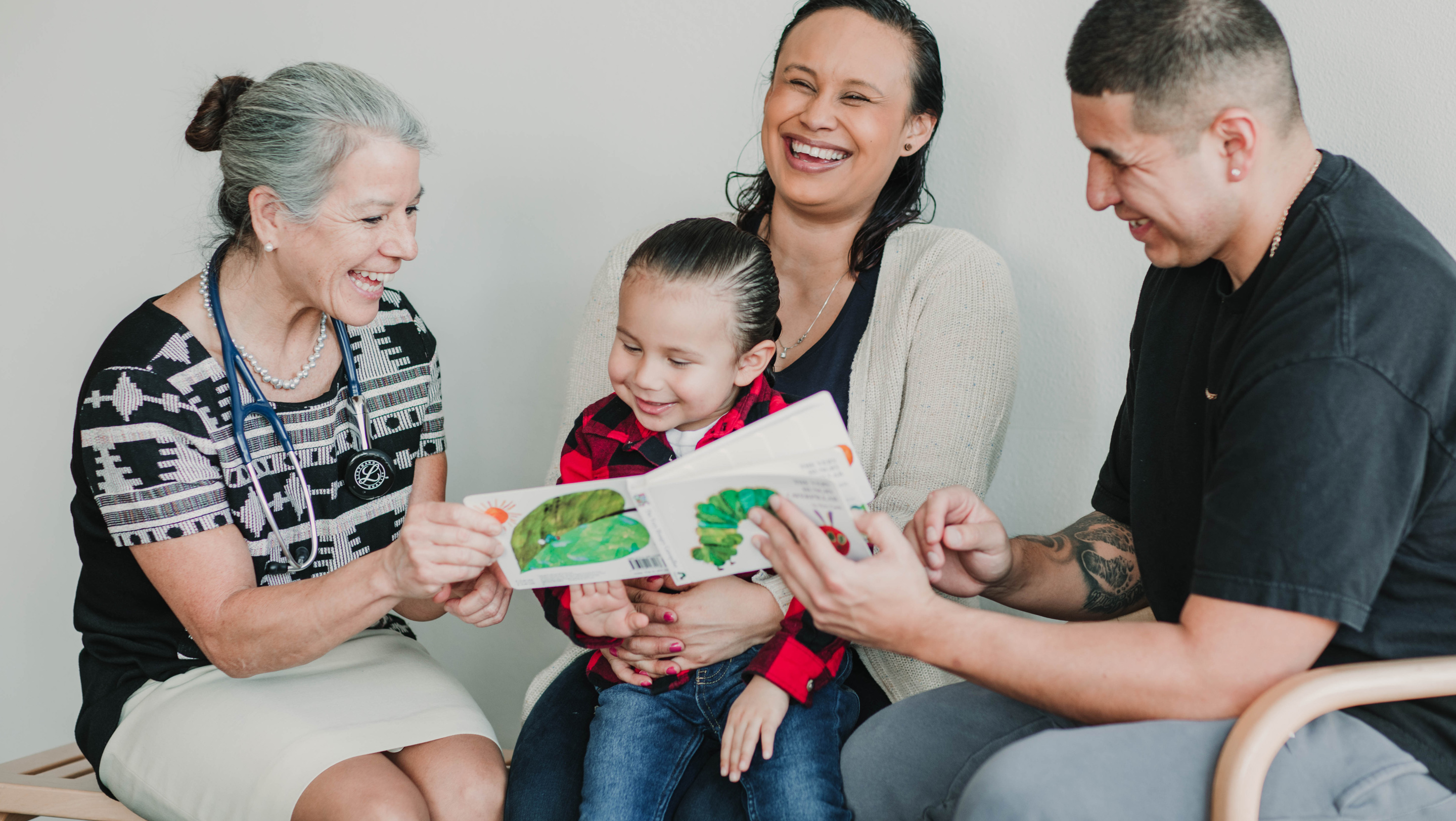 Reach Out and Read Wisconsin
Reach Out and Read Wisconsin
More than just books, Reach Out and Read Wisconsin uses trusted medical professionals to support parents and encourage healthy child development.
Register now for our regional meetings!
These events will serve as a great learning and networking opportunity.
Impact
With 281 participating sites in medical clinics across Wisconsin, we provide more than 170,000 children and their families in 56 counties with books and resources to empower parents as their child's first and best teacher.
Reach Out and Read is a two generation intervention built and backed by science and a growing body of academic research. We utilize the existing medical infrastructure to encourage supportive, educational conversations with parents on the importance of reading aloud and the impact on a child's brain development.
Read our latest impact report.
Our Program
The first three years of a child's life are critical. By promoting reading aloud and positive daily child-caregiver interactions, Reach Out and Read Wisconsin helps ensure that every child has the healthy foundation they need - cognitively, socially and emotionally.
253,700
books distributed
Give the gift of Reach Out and Read to a Wisconsin family today.
"I would rather walk into a child's regular checkup without my stethoscope than without a book."
Dipesh Navsaria, MPH, MSLIS, MD
Reach Out and Read Medical Director, Wisconsin
THE POWER OF PARTNERSHIPS
Reach Out and Read Wisconsin is supported by trusted pediatricians, residents and medical providers across the state who give their time, talents and expertise to help support parents in preparing their children for success in school and in life.
In addition to our medical community, we are extremely grateful to our state, community, foundation partners and individuals that help us reach more children each year.
Meet our team
Reach Out and Read Wisconsin Phone Number
608.291.7574
Email us! wisconsin@reachoutandread.org
Mailing Address
5606 N Argyle Ave. Glendale, WI 53209
DeDe Williams, Executive Director
Contact DeDe
Dipesh Navsaria, MPH, MSLIS, MD, Medical Director
Contact Dipesh
Amber Bloom, Senior Program Manager (Southeast)
Contact Amber
Julie Dorshorst, Program Manager (Northwest)
Lisa Falduto, Program Director 
Colleen Holz, Program Manager (Fox Cities) 
Cari Ritter, Program Manager (Southwest)
Alexandria Rogers, Program Manager (South Central)
Contact Alexandria
Liz Smith, Marketing Communication Manager
Melissa Sanders, Program Manager (Northeast)
Sandie Thao, Operations Manager
Cori Thiermann, Development Director