April is the Month of the Military Child. Reach Out and Read with our friends at Sesame Street Communities celebrates the strength and resilience of military children all month long with the theme of Military Children and Youth: Standing Strong and Proud.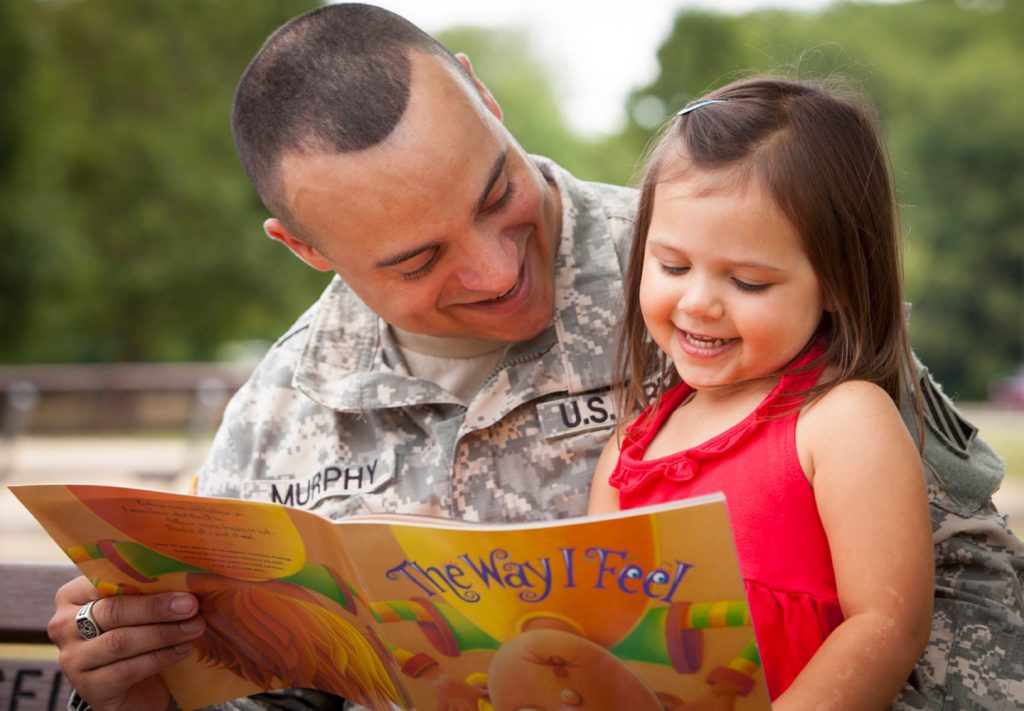 Military families face distinctive social and emotional challenges, including frequent moves, deployments, other separations, and the physical, emotional, and psychological consequences of serving in combat and other highly stressful environments. These have implications for both children and parents.
To help address the unique early relational health needs of military families, Reach Out and Read launched Operation RX for Success for Military Families Initiative over a decade ago. This initiative helps military families specifically address their unique challenges. For example, books like The Kissing Hand or The Fathers are Coming Home may be chosen for our military programs to help children cope with separation and reunions. The book can be used as a conversation starter to discuss concerns or anxieties. Parents can comfort and reassure their children by sharing those concerns while also building strong family connections.
Military Providers are Making a Difference
As part of Operation RX for Success for Military Families, during pediatric well-child visits, our Military providers encourage parents to cuddle up with their child every day and share stories together, especially during separation from the other parent or during highly stressful times like preparing for a move. Among many other benefits, reading aloud is a proven technique to help children cope during stressful times or tragedy, making it a valuable strategy for military families. Additionally, reading aloud provides a buffer against toxic stress, which can have life-long, adverse effects on a child's brain and emotional development. By reading aloud together during stressful times, parents are comforting their child and building their child's resilience which the child will benefit from throughout their life.
Pediatric clinicians practicing on military installations have a unique view of Reach Out and Read's benefit for the children and families they serve. They consider it an essential contributor to military preparedness, advancement toward equity, a protective factor that promotes resiliency for children and families under substantial stress, and a program that aligns with the mission of the Armed Services.
Lee Beers, MD, President of the AAP, shared, "I think a lot about how we make sure all families have equitable access to opportunities to ensure their families can thrive. One of the wonderful things about Reach Out and Read is that when you walk into the [exam] room with a book and you see the child's eyes light up … I took care of lots of families in the military who were quite low income based on their rank and the salaries they get at their rank. For many of them, the books they get from Reach Out and Read are almost the only books they have in their homes… It reminds you how important it is to continue to push and fight to ensure that every family has access to what they need to help their family thrive." Dr. Beers recently joined us on the Reach Out and Read Podcast along with the Kikta family to share their personal, direct experience of how reading together helped them and their four children through multiple deployments.
Reading Together Offers Consistency
With frequent moves, military families often struggle with inconsistency. By offering Reach Out and Read on military installations, families have the consistency of the program as they move. This daily routine of coming together as a family and reading aloud, regardless of what is happening around them, helps military children and families cope with life's challenges and lays the foundation for strong, resilient children and families. We are proud to celebrate our military children; stand strong and proud!
"Reach Out and Read is well-loved by our patients, parents, and providers. Children are always excited about coming in to get new books. It makes a difference in helping families promote early literacy and a love for reading but also help the children have another outlet to deal with the stresses related to deployments, prolonged parent/caregiver absences, and frequent moves that are common in the military." – USAF Langley Hospital
Reach Out and Read currently has 70 active sites on military installations in 28 states and internationally, serving children and families at approximately 207,524 well-child visits annually.
---