Chosen from a pool of more than 2,000 entries, the #RORPodcast has won Silver in the Health category for the 2nd Annual Anthem Awards.
At Reach Out and Read, we dream of a world in which every child is read to every day. The podcast focuses on the belief that reading aloud with children helps with brain development, builds strong family bonds, and creates happy and healthy children and a healthier society. The podcast is an extension of the organization's work nationwide.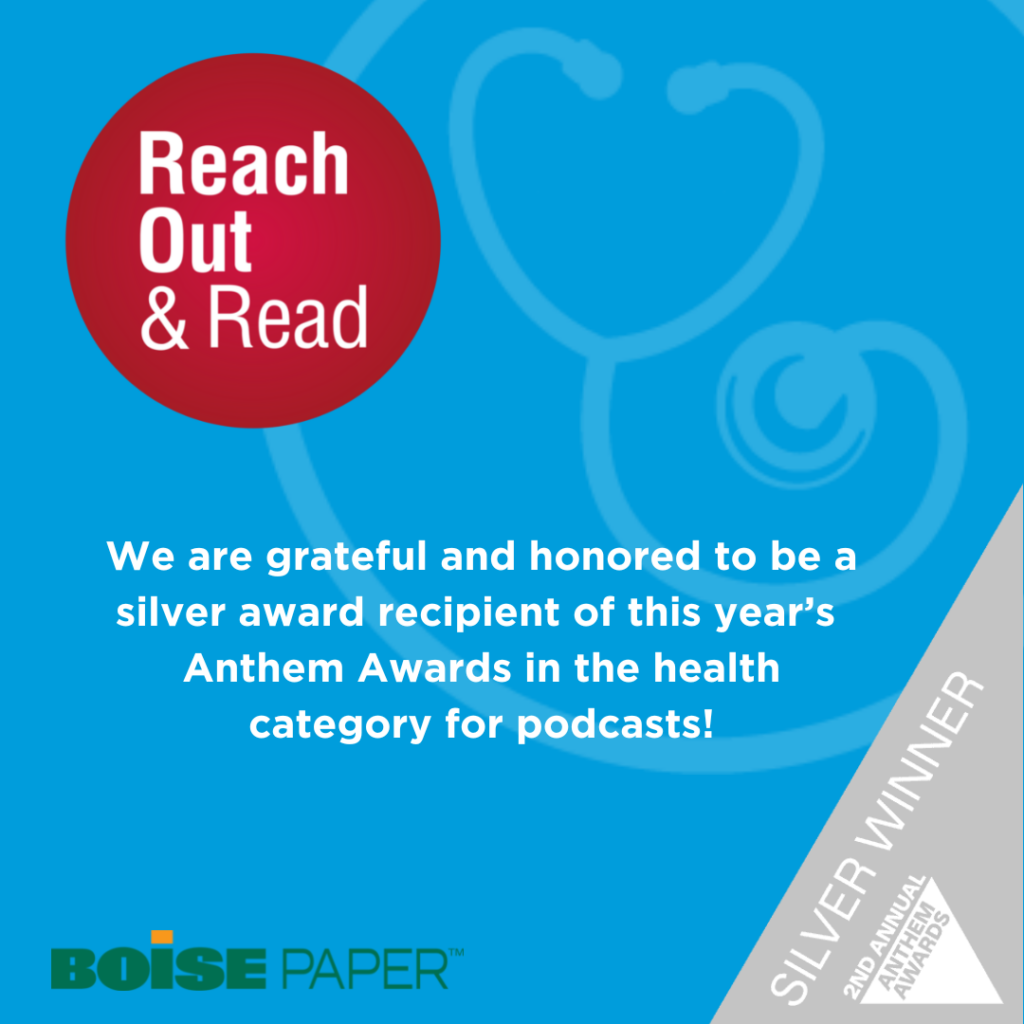 "The goal of the podcast was to increase public awareness of our work and share with the wider world these incredible conversations we get to have inside the organization with partners on the benefits of reading with children," said Dipesh Navsaria, M.D., host of the podcast. "We have spoken with guests, including pediatricians, authors and experts on everything from literacy to censorship to parenting to picture book art. The podcast has uncovered a wealth of information on building strong parent-child relationships from the earliest days, and in telling those stories, we hope we will support caregivers and children for generations."
The podcast, currently in its third year, has published 70 episodes to date. Along with the podcast host are Jill Ruby, the Series Producer, and Lori Brooks, the National Senior Director of External Affairs. 'The Reach Out and Read Podcast' joins actor Billy Porter, advocate Gabrielle Giffords, former First Lady Michelle Obama, and many others as a recipient of an Anthem Award.
"We're honored to receive this astounding award. Reach Out and Read sits at the intersection of health and education, and we are uniquely positioned to play an essential role in defining and addressing systemic inequities that exist for all children to thrive. We use this podcast to engage thought leaders in this space and increase awareness of our important work."

Marty Martinez, CEO
Launched in 2021 by The Webby Awards, The Anthem Awards honors the purpose and mission-driven work of people, companies and organizations worldwide. The awards recognize work across seven core causes: Diversity, Equity & Inclusion; Education; Art & Culture; Health; Human & Civil Rights; Humanitarian Action & Services; Responsible Technology; and Sustainability, Environment & Climate. Founded in partnership with the Ad Council, Born This Way Foundation, Feeding America, Glaad, Mozilla, NAACP, NRDC, WWF, and XQ.
Anthem Winners are selected by the International Academy of Digital Arts and Sciences. Members include: Nicholas Thompson, CEO, The Atlantic; Christina Swarns, Executive Director, Innocence Project; Zarna Surti, Global Creative Director, Nike Purpose; Maurice Mitchell, National Director, Working Families Party; Lindsay Stein, Chief Purpose Office, Tombras; Jennifer Lotito, President & Chief Operating Officer, (RED); Lisa Sherman, President & CEO, The Ad Council; Emily Barfoot, Global Brand Director Dove, Unilever; Trovon Williams, Senior Vice President of Marketing and Communications, NAACP; Roma McCaig, Senior VP of Impact, Clif Bar; Michelle Egan, Chief Strategy Officer, NRDC; Dinah-Kareen Jean, Senior Manager, Social Innovation, Etsy; Sarah Kate Ellis, President & CEO, GLAAD; Jad Finck, Vice President of Innovation & Sustainability, Allbirds; Christopher Miller, Head of Global Activism Strategy, Ben & Jerry's; and Shayla Tait, Director of Philanthropy The Oprah Winfrey Charitable Foundation.
Click here to learn more about the awards and see a complete list of winners.