Reach Out and Read partners officially with 16 active medical sites in Delaware, but these have always remained "independent" sites. By bringing these medical sites into the Reach Out and Read affiliate structure, we will be able to formalize and leverage these partnerships as we work to strengthen our impact on Delaware's babies, toddlers, preschoolers, and their families.
Our Reach Out and Read Delaware Site Affiliation project will transform work in the state to the high-fidelity programming we see in our top-performing regions of the country. The project will significantly improve accredited medical provider training, accurate program evaluation, book distribution, and clinic support. Hiring program staff for our Reach Out and Read program in Delaware will allow us to support clinics, collect more accurate data and use it to improve program outcomes for families and clinics.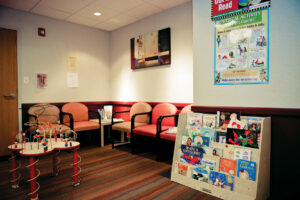 With funding from Delaware partners, including Longwood Foundation, Highmark Blue Cross Blue Shield Delaware, Nemours Children's Health, the Delaware Department of Health and Social Services State Child Health Centers, we will transform the clinician-patient experience and give parents the skills and tools to create engaging everyday moments with their children.
The project will be championed by Reach Out and Read New Jersey and Delaware Executive Director Kim Byam as well as our New Jersey and Delaware Program Director Alyssa Brunstein who will initiate individualized technical support to our sites across the state to ensure fidelity to the model. We are also hiring a Program Manager based in Delaware, to continue cultivating relationships with medical providers and strategic community partners to help sustain the impact and expand the reach of our program. Kim Byam says, "It has been a great experience working with many stakeholders in Delaware who care deeply about children and families to build this new Reach Out and Read affiliate. We are so grateful for these partnerships and look forward to the work ahead."
Reach Out and Read will be part of more than 43,000 well-child visits each year in Delaware. According to our data, 55% of the families we serve used Medicaid or another form of public insurance or are uninsured. 1 in Delaware, 1 in 5 children under age 5 live in poverty, and only 35% of these children from low-income families are proficient in reading by 3rd grade. It is imperative that we work together to do better for our children so they can reach their full, innate potential.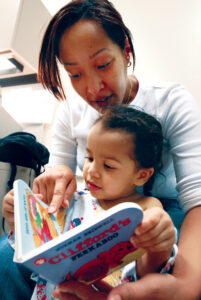 Key findings of a substantial body of peer-reviewed research demonstrate that when the Reach Out and Read intervention is delivered with fidelity to our model, parents are two and a half times more likely to read to their children and children's language development is improved by 3-6 months (relative to their non-Reach Out and Read peers) by the time they reach kindergarten. This project is a new and powerful opportunity to improve outcomes for our young children and families by shepherding our DE sites and strategically bridging the program fidelity gaps that exist across the state. We will achieve significant improvements in accredited provider training, accurate program evaluation, and full book distribution, variables that lead to the outcomes from our evidence-based model.