During the pandemic, health care workers have had to think outside of the box in response to the dramatic drop in child immunizations. In hard-hit areas, like the city of Boston, the message for the last seven weeks has been to stay home to flatten the curve, leaving many parents with fewer options to receive/access vital treatments.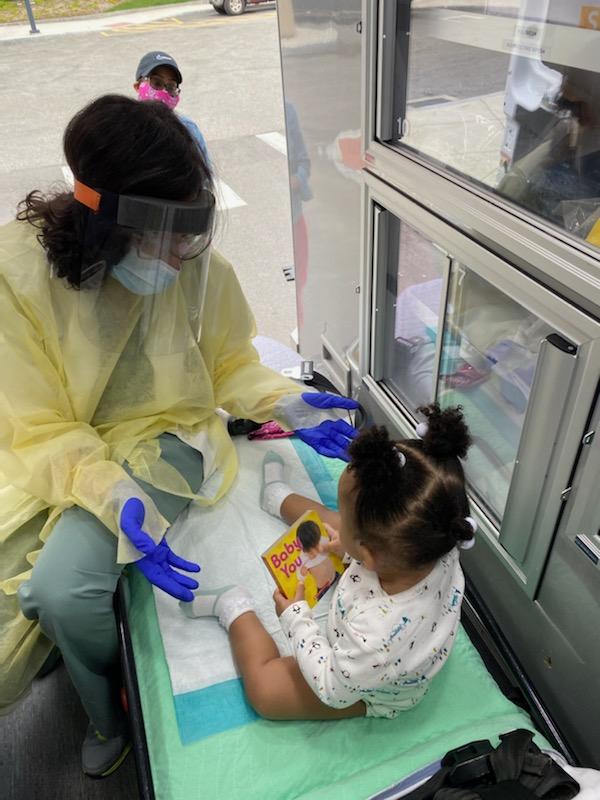 To meet patients where they are, doctors like Reach Out and Read's Massachusetts Medical Director and pediatric primary care physician at Boston Medical Center, Eileen Costello, MD have helped pilot the mobile vaccination unit to treat young patients in the city's neighborhoods. Not only did young patients receive their much-needed immunization shots, but they also received the important message of reading aloud and a book from Reach Out and Read.
"We are inspired to see our model adapted to the settings of our time. Many thanks to our supporters for allowing this and countless other interactions to continue across the country," said CEO of Reach Out and Read, Brian Gallagher.
The COVID-19 pandemic reinforces the importance of Reach Out and Read's work; it has never been more vital to strengthen family bonds and help children feel loved and secure. At the same time, the challenges of the pandemic have demanded that we find new ways to meet our mission and address the intensified needs of children and families.
In these extraordinary circumstances, Reach Out and Read is stepping up to meet the needs of children from birth to five, and of the pediatric care providers who serve them. These uncertain times have taught us that parents and children treasure books and stories to create moments of security and warmth despite the stressful state of the world.