"When people think of Dungeons & Dragons, they think of a bunch of dudes in their mom's basement," Satine Phoenix, "The Queen of D&D," says in a piece for Time. "Once a year or so I run a Celebrity Charity Dungeons & Dragons [CCD20] game where various actors and other celebrities play D&D and raise money for Reach Out and Read… We livestream it, and their fans — who have no idea they were into this — suddenly get interested in D&D. Sometimes people just need things explained to them."

Since 2010, CCD20—an event where celebrities raise money by playing tabletop role-playing games– has raised over $35,000 for Reach Out and Read. Role-playing games are highly inventive and playful, and organizer Phoenix sees an easy connection between tabletop gaming and the imagination involved in early reading. "The world [of D&D] is bigger than what you can fit in your Xbox or PlayStation," Phoenix explains, "Anything you can think of your character can do with an infinite number of possibilities and maneuverable physics depending on where the game takes place."
This is all a natural extension of the early reading work we do at Reach Out and Read where, like Phoenix and her fellow tabletop gamers, we lean into the imaginative possibilities of shared attention. At Reach Out and Read, we know that you do not even have to read the book to tell a story, that the fun of collaborative and novel invention is often what makes the experience of parents spending time with their children come alive.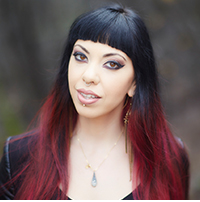 In an interview with The Role Initiative, Phoenix says that charity was a big part of her life growing up, and then she lost track of it in her twenties. "So, by the time I hit 30 I was like, 'I want to do my two favorite things. I want to play Dungeons & Dragons with my friends in LA, and I want to raise money for a charity.' She picked Reach Out and Read. "It's a childhood literacy foundation where they have a program that teaches pediatricians how to teach parents the importance of, and how to get their kids to read," she says. "It's the most incredible program."
Phoenix says that these days, people from the tabletop gaming community are coming out of the basement. "We like to say, 'Bringing the geek out of the basement,'" Phoenix says. She says apart from a vocal minority, the tabletop gaming community is the nicest and kindest community she has ever met. "We are nerds. We are all shy, and we all are just waiting for more people who are passionate to meet more people like us who are passionate."
You can follow Satine Phoenix here. To learn more about partnering with Reach Out and Read, visit our 'Partner with Us' page.