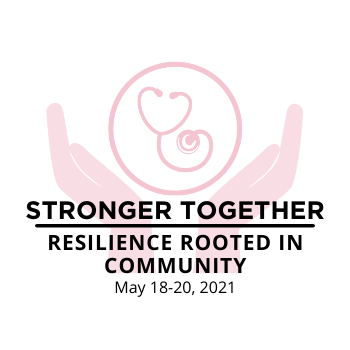 Our virtual gathering of clinicians, early childhood experts, and Reach Out and Read leadership provided a venue to share the power of Reach Out and Read to give every child a strong foundation through meaningful child-parent interactions and a love of reading and books. Our group especially enjoyed welcoming Judith Palfrey, MD, T. Berry Brazelton Professor of Pediatrics, Harvard Medical School as our keynote speaker. Dr. Palfrey spoke about the role that the Reach Out and Read community can take in advocating for and supporting children around the country. 
We also engaged in various professional breakout groups throughout our time together that activated our vibrant network to build community, work towards a shared vision and action, and learn with and from each other.
Award Recipients
Each year we honor a medical champion, a site, and staff for their dedicated commitment to the Reach Out and Read mission.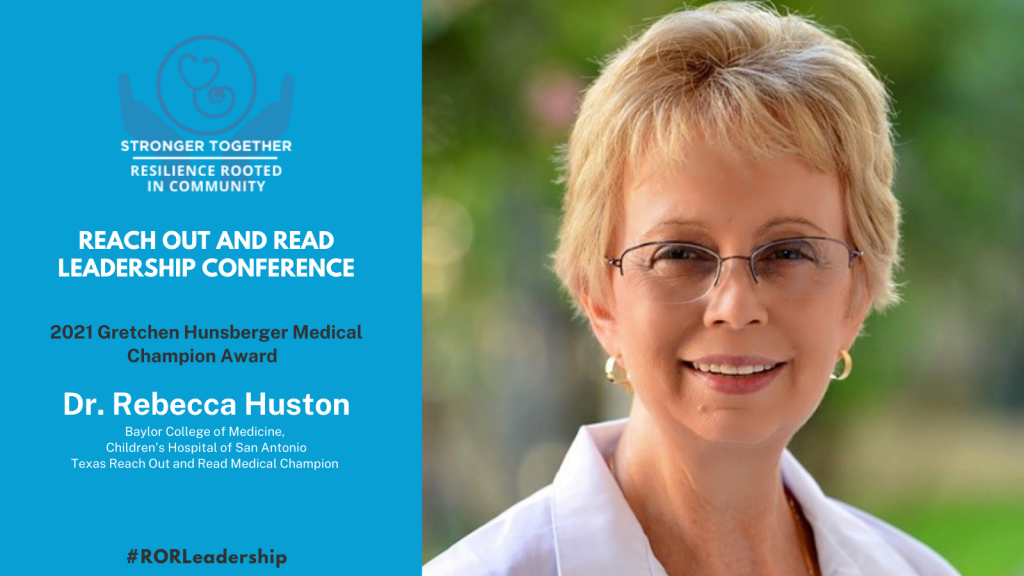 Gretchen Hunsberger Medical Champion Award –
Dr. Rebecca Huston, of Baylor College of Medicine and Children's Hospital of San Antonio and a, Reach Out and Read Champion since 2001
Established in 2016 in honor of our late colleague, the Gretchen Hunsberger Medical Champion Award honors a doctor or other medical provider who has been extraordinary as a trainer, clinician, and/or clinical director; one whose exemplary personal and professional medical leadership has helped to make delivery of the Reach Out and Read program model all it can be in pediatric primary care. Reach Out and Read's medical leadership established the Gretchen Hunsberger Reach Out and Read Medical Champion Award in memory of Gretchen and her profound commitment to our program.
---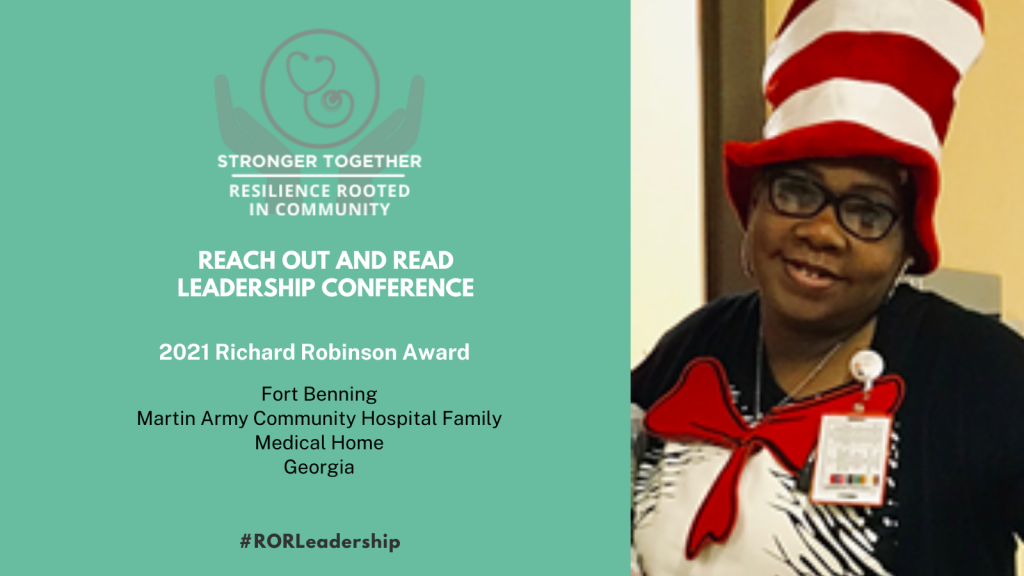 Richard Robinson Award:
Fort Benning – Martin Army Community Hospital Family Medical Home in Georgia
Named for Scholastic Inc. Chairman and Chief Executive Officer Richard "Dick" Robinson, this award recognizes the extraordinary implementation of the Reach Out and Read program by a medical practice or clinic that inspires others with their efforts in support of our shared mission of early literacy promotion. We are proud to honor Dick's leadership of the partnership he started 20 years ago with the Richard Robinson Award. The recipient program receives a gift of a plaque of recognition and 250 books.
---
Wyntress Smith award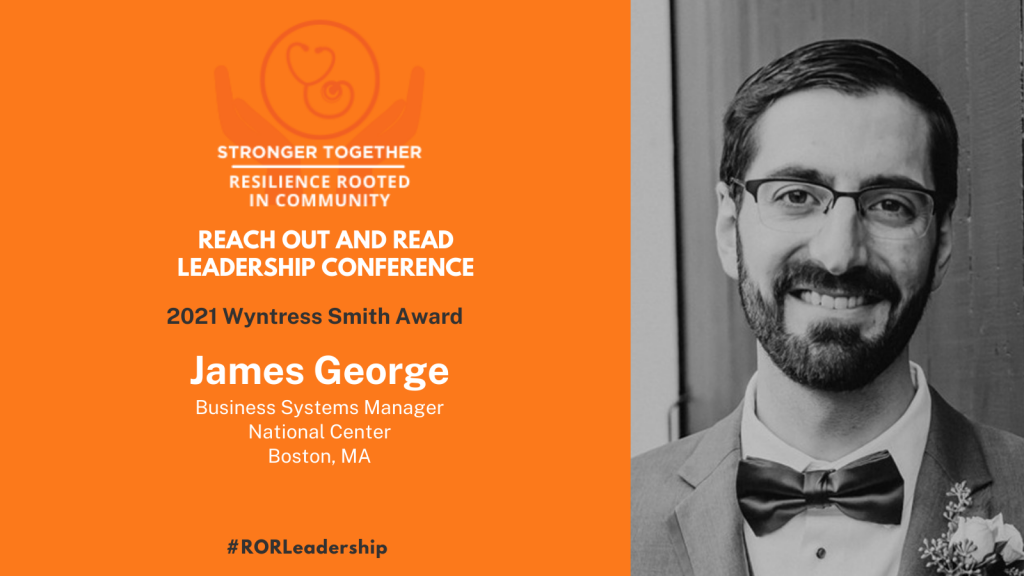 James George, the Business Systems Manager, Salesforce, at our National Center in Boston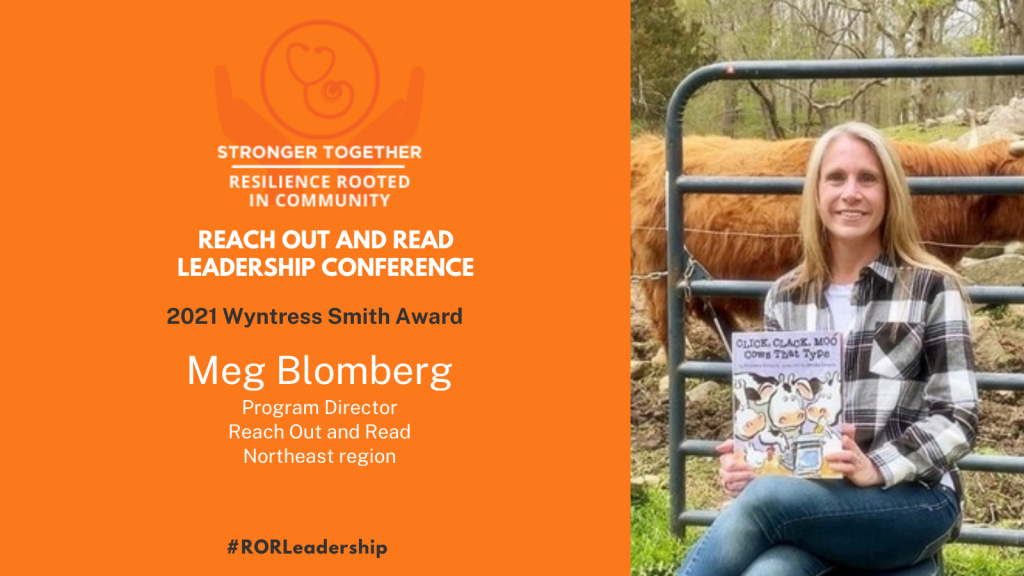 Meg Blomberg, Reach Out and Read Northeast Program Director
Instituted in 2011 in honor of the late Wyntress Smith, Program Coordinator for Reach Out and Read for Solano County Library Literacy Service, this award recognizes two individuals who go above and beyond and truly embody the organization's core values of Passion, Excellence, Respect, and Innovation. In recognizing staff, who "go above and beyond," the Wyntress Smith Award honors the memory of someone very special to Reach Out and Read.
This time spent together is made possible by our generous sponsors. Their support and partnership help us strengthen our connections and deepen our work together.
Thank you to our conference sponsors