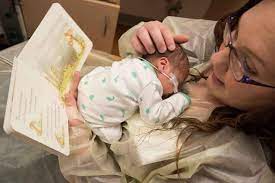 A stay in the newborn intensive care unit (NICU) can be overwhelming for a new family as they often struggle with how to bond with their newborn baby. Dr. Carmina Erdei, a neonatologist and the Medical Director of the Growth and Development Unit at Brigham and Women's Hospital, joins the ROR podcast to talk about how reading and talking to preemies can offer parents the chance to reclaim at least some of their role, and foster healthy growth and relationships while their child is in the NICU. Reading with your newborn is one of the most important things you can do to support your baby's growth and development.
"We understand that babies undergo a rapid period of brain development during the third trimester of pregnancy. For babies born prematurely, a lot of that happens not in utero, but in the sensory and socially atypical environment of the NICU", says Dr. Erdei. Studies have shown how important it is to read to your baby in these early stages of life in neonatal care. When babies hear language/words, hundreds of their brain cells connect, which helps set up brain pathways for future learning.
In Part 2 of our "Reading in the NICU" series, we talk about the emotional and physical architecture of NICU reading programs and their effect on babies, their families, and the medical staff who implement them with Dr. Viral Jain, Assistant Professor of Neonatology at the University of Alabama at Birmingham and Founder of NICU Bookworms. Dr. Jain explains how these programs give parents a way to bond with their babies, and how providers can offer practical reading help and guidance to NICU families. "It's a very different NICU than we had a decade ago, data shows we should have more family involved care for these infants." says Dr. Jain.
Reading can strengthen the special bond you have with your baby and may help relieve some of the stress of having a baby in the NICU. Click here to enjoy a video of families reading in the NICU with a song created by Dr. Viral Jain.