Reach Out and Read Oklahoma joined a network of early childhood innovators across Oklahoma with its inclusion in The Oklahoma Clearinghouse for Early Childhood Success. The Clearinghouse announced its decision in late May.
"We are proud to be included as a research-based intervention that addresses both literacy and social-emotional development for children ages five and under," said Lori Lake, executive director for Reach Out and Read Oklahoma.
The Clearinghouse is a collection of national and local research and evidence-based resources across several early childhood domains that can be replicated to better support children and families. Initially a project of the Oklahoma Department of Human Services, the program moved to the Oklahoma Partnership for School Readiness (OPSR) in 2021. OPSR aims to elevate best practices and inform implementation across early childhood systems in Oklahoma.

"The Clearinghouse is not just a repository of good ideas. We aim to lift up, help replicate and fund innovative and inclusive work that leads to Oklahoma students being successfully ready for school and life," said OPSR Executive Director Carrie Williams.
"It can be hard for the industry to keep up with the latest early childhood research and best practices, let alone find innovative ways to serve children and prepare them for success. The Clearinghouse serves as a repository for research, evidence-based practices, and innovative ideas to elevate the early childhood industry in Oklahoma and nationwide and to make those supports available to those who serve children in Oklahoma."
In the first round of 22 initiatives, Reach Out and Read was one of the ten vetted and approved by the Clearinghouse. The submissions, reviewed by early childhood experts, both nationally and in Oklahoma, were the first to be rated and reviewed by the Clearinghouse since its formation in 2020. OPSR will be announcing implementation supports for round one projects in the coming weeks and will assist with drafting plans that will be carried out by the Clearinghouse to ensure practices are sustainable and replicable.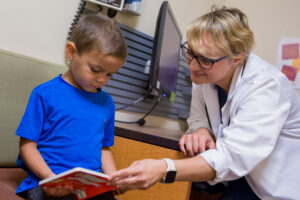 Submissions to the Clearinghouse may be steeped in research or in practice. In addition, the Clearinghouse will champion innovation, strengthening Oklahoma's early childhood system by identifying support to implement quality programs in the state. OPSR leads outreach efforts through town hall discussions and targeted social media materials to ensure that submissions are equitable and represent diverse communities. The programs fall into three categories – research, practice-based, and innovative ideas. Reach Out and Read Oklahoma is listed in the research-based category.
Reach Out and Read's online listing is available at https://bit.ly/ROROKclearinghouse