"We love having Reach Out and Read at our site. We get positive feedback from providers, staff and families." Mercy Health Rockford Clinic
We are thrilled to share that, effective next year, Reach Out and Read West Michigan is officially expanding its Affiliate's presence to serve all sites across the state of Michigan and will be aptly named Reach Out and Read Michigan.
"One of my greatest joys is leading Reach Out and Read (West) Michigan. As a catalyzing partner in supporting communities that elevate early learning, I'm honored to see how we have listened to parents and caregivers to create a framework for centering communities at the intersection of health and education across Michigan." – Dr. Donna Lowry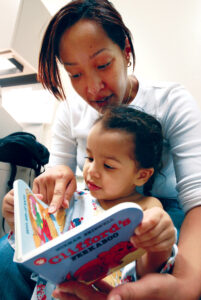 From 2013-2019, Ready for School, a Holland, MI based nonprofit whose mission is to create communities of kindergarten-ready children, relied on private funding to ensure that children 0-5y in Holland, Zeeland and Hamilton could benefit from the Reach Out and Read model. Because Reach Out and Read had been crucial in Ready for School's multi-sector early childhood infrastructure building, they were invited to become the Reach Out and Read West Michigan affiliate in late 2019. Initially serving two counties and nine sites, the proposed business plan of the newly established Affiliate included plans for geographic expansion of Reach Out and Read upon securing funding and dovetailed with an opportunity for regional expansion to serve more children. In January of 2020, the Kent County Board of Commissioners met and approved funding recommendations for Ready by Five Early Childhood millage services in 2020-21. As a result, Reach Out and Read West Michigan received funding that provided the catalyst for full practice implementation of the Reach Out and Read evidence-informed model. In 2022, the Ready by Five award was granted for an additional two years of service and expansion. Most recently, Reach Out and Read West Michigan expanded to cover a twelve-county geography with 57 sites, with a long-term vision of becoming the statewide Affiliate.

Thanks to the strategic work of the team, leading to key wins such as a $1.3+ million investment from the Kent County Early Childhood Millage and partnerships with health systems and insurance payors, Reach Out and Read (West) Michigan is prepared to sustainably scale their support statewide and grow with quality to achieve our mission. Reach Out and Read Michigan will bring with them a Ready for School strategy, KIDfrastructure – a unifying way to understand how communities' systems, services, and amenities are helping its youngest members to thrive in the home, school, and neighborhood environments. This framework is the first to connect the dots between early childhood health, education, and place; Reach Out and Read will explore the intersection of health & education.

Please join us in congratulating Dr. Donna Lowry, Darla Harris Schaap, and Hilary Marine as they celebrate this pivotal transition, with the ultimate vision of catalyzing Reach Out and Read to play a more critical role in the systemic support of children and families across the state of Michigan.